Connecticut Heavy Machinery Transport & Hauling Services
With Freedom Heavy Haul on your team, you get the benefit of working with the most reliable heavy machinery transport and hauling service in Connecticut. In fact, we are proud of our reputation of being the go-to trucking company when it comes to moving any heavy equipment from/to Connecticut, be it construction cranes, engineering equipment or oil rig drills and farming machinery.
Our teams have travelled extensively through Connecticut and its neighboring states. If there's a shorter, better and safer way to move your heavy machinery – be it across city or across state lines, chances are that our team has traversed that route extensively.
Major Ports in Connecticut
Ports, be they sea or air, play a major role in getting cargo from one city in the State to another, across the country, or even to international destinations. We, at Freedom Heavy Haul, have experience is supporting our clients through all three requirements – intra-state, inter-state and globally.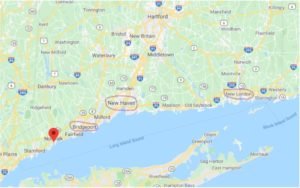 In addition to a range of small harbors, Connecticut houses three deep-water ports:
Bridgeport

New Haven

New London
These ports serve as the lifeblood of the State, providing shippers and transportation companies, like Freedom Heavy Haul, ready access to a vast transportation network of interstate highways, local roads, as well as railway and truck terminals.
The port of New London is Connecticut's busiest port, while New Haven is the most diverse of the State's port network, allowing access to ships with approximately 40,000-tond of DW cargo. The port is ideally located to connect with I-95 and I-91, as well as convenient for transporting rail-bound cargo to the Northeast of the U.S., neighboring Canada, the Mid-Atlantic, and further bound.
Bridgeport offers strategic land-based logistical opportunities through its proximity to I-95, and the 26, 27, 28 & 29 interchanges, as well as easy access to Connecticut routes 8 & 25. Being just 5 miles from Sikorsky Memorial Airport makes Bridgeport a great choice for outbound air cargo too.
Major Cities and Roadways in Connecticut
Connecticut is served by a network of three Interstate highways that act as the lifeblood for trade and commerce across the State.
With I-95, we move all kinds of cargo and freight through the southern shores of the State. It enters the state through New York, and exits through Rhode Island. It also acts as major trucking route for cargo destined for the Port of New York and New England 

If it's a load destined for mid-state, we'll use I-91 which runs north/south through the center of Connecticut. It extends from New Haven through to the Massachusetts State Line, then giving access to Albany and Boston. As a regional artery, I-91 allows trucks and other land-based carriers access through New England and onward to Canada. Truckers from New York find this very convenient when moving freight to those areas via Connecticut

And, of course, we also have the option to use I-84, an east-west Expressway that enters the State through New York, at Danbury, and stretches on to I90 in Massachusetts. Trucks travelling from New York to Boston find this a very convenient route. 
The State also has a vast artery of North/South expressways and connecting roads, including:
Route 7, which spans from Norwalk north to Massachusetts and connects to I-95 and I-84Â 

Route 8, that is an Expressway which extends from the I-95 in Bridgeport to Winsted, and intersects with the I-84. Route 8 transforms into an arterial highway North of Winsted 

Route 2, which is an expressway that extends from Hartford to Norwich

Route 11, that is also an expressway extending from Colchester to New London and the I-95Â 

Interstate 395, which spans from the I-95 east of New London, and to Worcester, MA
The 10-largest cities in the Nutmeg State include:
Bridgeport 

New Haven 

Stamford 

Hartford 

Waterbury 

Norwalk

Danbury 

New Britain 

West Hartford

Bristol
Length, Weight, Height and Width Restrictions in Connecticut
The State of Connecticut Department of Motor Vehicles Motor Carrier Handbook covers permissible length, weight, height and width limits for trucks and rigs plying on Connecticut roadways and highways. 
Standards for allowable Length, Weight, Height and Width include:
Maximum Trailer Length:

Single unit vehicle 45 feet: tractor semitrailer combination, no overall length limit, semitrailer limited to 48 feet

Maximum Trailer Width:

102.37 Inches

Maximum Trailer Height:

13 Feet 6 Inches

Weight:

80,000 pounds on 5 axles with a 51 foot wheelbase.
Trucks that fall beyond these specifications require permits. Application for Oversize and/or Overweight Permits are available at the CT Department of Transportation.
Oversize Transport Permits in Connecticut
Oversize and Overweight Permits are issued by the Motor Transport Services Section of the Department of Transportation. You may also get them by telephoning ahead or through mail. These permits are typically valid for 3-days only, and issued for non-divisible loads. There are other restrictions and permit requirements for divisible loads.
Such permits are usually essential to transport non-conforming loads that do not exceed the following dimensions and weight limitations:
LENGTH DIMENSIONS
WEIGHT DIMENSIONS

SUPER LOAD CONSIDERATIONSWEIGHT DIMENSIONS
Loads that do not fall into the above criteria are classified as Super Loads or Super Heavy Loads that require state-proposed routes to be followed. CT considers loads with the following parameters super loads:

Super Load movements are restricted to nigh-time only, and usually require to be escorted by Connecticut State Police (CSP). Be especially mindful also about specific requirements that the State has in place for pilot vehicles.
Equipment Auction Houses in Connecticut
At Freedom Heavy Haul, we also support our clients who need to ship heavy equipment and machinery from and to any auction house in Connecticut. Some prominent auction houses in the State include:
Equipment Rental Centers in Teas
Feel free to contact us if you require support with transporting your heavy equipment from/to an equipment rental center across Connecticut. Some key equipment rental centers in Connecticut include:
RGN Trailers Servicing in Connecticut
Your RGN trailers are a key asset in your inventory. Take extremely good care of them. If you find yourself in a position where you need to service your RGN trailers, make sure you only deal with service companies experienced and qualified to perform service on your rigs. Here are a few RGN trailer servicing companies in and around Connecticut: