Delaware Heavy Machinery Transport & Hauling Services
According to estimates cited by the Delaware Freight Plan, the State's population – especially around its industrial and commercial hub in the Delmarva Peninsula area – is set to explode by nearly 30% by 2040. So, what does that mean for you? Well, whether you are a large corporation, a small-to-medium sized business, or an independent commercial operator – along with that explosive growth, will come rising consumer trends and an increasing demand for freight. 
With Freedom Heavy Haul as your Delaware heavy machinery transportation partner, you'll be well-poised to take advantage of the coming wave of industrialization in the Diamond State.
Major Ports in Delaware
A network of air and sea-based ports process both in and out-bound freight across Delaware. These include:
Water-based freight systems providing over 100 miles of waterways, such as:
Port of Wilmington

Delaware River

Chesapeake & Delaware Canal

M-95 Marine Highway

Port of Salisbury

Wicomico, Nanticoke, and Pocomoke Rivers
And air transportation systems:
Dover Air Force Base/Air Cargo Ramp

Wilmington-Philadelphia Regional Airport

Salisbury-Ocean City-Wicomico Regional Airport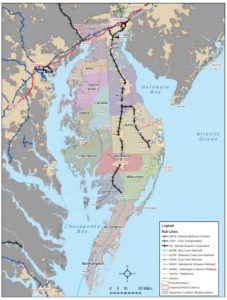 SOURCE: Delaware Department of Transportation.
An efficient rail network, covering over 243 miles of freight hauling railroads, further compliments the movement of freight, including:
Rail operators:
CSX Transportation

Norfolk Southern

Maryland and Delaware Railroad

Delaware Coast Line Railroad

Bay Coast Railroad (and carfloat)

East Penn Railroad

Wilmington & Western Railway
In this State of roughly 967.2k people (2018), truck transportation accounts for over 15,000 jobs, which serves to highlight the importance that we, as heavy machinery and equipment haulers, play in the States' GDP of nearly $80B.
Major Cities and Roadways in Delaware
Delaware is served by an artery of 6,452 miles of public roads and 863 bridges that ship upwards of 77.0 million tons of freight worth over $88.1 billion. Major products shipped across the State, and across state lines include Pharmaceuticals, Chemicals, Petroleum, Plastic and Rubber products, Electronic goods and produce, including seafoods and meat. 
The transportation of commodities, heavy machinery and other industrial and commercial freight, across Delaware, occurs through a well-organized multimodal transportation network. 
The backbone of this network comprises of:
I-95 Metro Freight Corridor

US 301 Bay Freight Corridor

US 50 Ocean City Freight Corridor

US 13/113 and DE 1 Coastal Freight Corridor

US 202 and DE 41 Piedmont Freight Corridor

MD/DE 404 and US 9 Lewes Freight Corridor
Despite having the honor of being the 2nd-smallest State in the Union, The Diamond State has one thing going for it that many others don't – it has one of the highest per-square mile population densities. Spread over a 1,948.54 square mile area, Delaware is home to an estimated 973,764 people (July 2019), with a population density estimated at 460.8 per square mile – 2010).
Top cities (by population) in Delaware include:
Wilmington

(est. 70,635)

Dover

(est. 38,079)

Newark

(est. 33,673)

Middletown

(est. 22,582)
Length, Weight, Height and Width Restrictions in Delaware
Chapter 45, Title 21 of the Delaware Code sets out the size and weight of vehicles and loads transported through the States' roads, highways and bridges. Some highlights of the code include:
On Interstate and U. S. Routes:
The maximum length of a semitrailer, exclusive of truck tractor size shall be 53 feet

The maximum length of a trailer or semi-trailer in a truck tractor-semitrailer-trailer combination, including any load thereon, exclusive of tractor size shall be 29 feet

Maximum height 13 feet – 6 inches
On all other highways:
A truck and semitrailer combination engaged in the transportation of motor vehicles shall not exceed a length of 65 feet exclusive of the overhang of the transported vehicle

If the overall width of any vehicle or combination of vehicles exceeds 8 feet – 6 inches
Oversized and over dimensional trucks, trailers and semis, defined as those carrying loads that exceed these limits, require a permit to ply on the State's road network.
Oversize Transport Permits in Delaware
The State regulates the transportation of oversized cargo through application of appropriate State laws. These laws prohibit trucks, trailers and other haulage vehicles from transporting goods and freight beyond specific weight parameters. Delaware's current laws include the following highlights:

Depending on length, weight and load characteristics, some exemptions may apply. There are additional requirements/restrictions applied to "Super loads"- loads that transcend length, height and weight limitations spelled out above. There may also be a need to comply with escort vehicle requirements. 
In all cases, however, the transportation of oversized/over dimensional cargo can occur only under permits. These permits are available at the Delaware Department of Transportation (DelDOT). If applying online, you require a valid User-ID and Password to apply for these permits.
Equipment Auction Houses in Delaware
Freedom Heavy Haul also supports clients ship a variety of goods, products, machinery and heavy equipment from/to auction houses in and around Delaware. Some prominent auction houses in the State include:
Equipment Rental Centers in Delaware
You may also reach out to us if you require us to support you in transporting equipment or heavy machinery from/to any equipment rental center across Delaware. Some prominent equipment rental centers in Delaware include:
RGN Trailers Servicing in Delaware
If you are moving sensitive and precious cargo across Delaware, or into the city from other parts of the U.S.A., using an RGN trailer, the last thing you need is to wonder where you might get reliable and dependable RGN trailer servicing in the State. Here are a few RGN trailer servicing companies in Delaware: