Heavy Equipment Shipping Companies Near Dover
At Freedom Heavy Haul, we have years of expertise in Dover trucking and shipping heavy equipment across long distances, including inter-state and cross-country shipments. Our teams have supported a cross-section of industries, including railways, engineering, mining, oil & gas, aerospace, farming, construction – and many others – get their heavy equipment to where it needs to be, safely and on time. 
Other heavy equipment shippers near Dover:
Long Distance Machinery Transport to/from Dover
Nicknamed "Capital of the First State", Delaware's State capital has the distinction of being the longest-serving capital city in the nation. Dover is also the 7th least-populated capital city of any State in the Union. 
Other milestones that put Dover on the national and international map include being the home city of Eldridge Reeves Johnson, the inventor of the phonograph, hosting the sprawling Dover Air Force Base complex, and headquarters of the Dover International Speedway, the organization behind the National Association for Stock Car Auto Racing (NASCAR) that attracts over 100,000 spectators to the city each year.
As one of the leading shipping and transportation companies, Freedom Heavy Haul is proud to be associated with transporting heavy equipment and machinery from and to Dover and other parts of Delaware and across the country. We do this safely, efficiently and professionally.
We equip our teams with all the tools and technology required to handle a range of cargo and freight. Our specialty includes shipping a vast array of machinery, including:
Plants

Oil rigs, pipes and related machinery

Industrial and commercial equipment

Mining machinery

Turbines

Agricultural machinery

Cranes

Hotel and restaurant appliances

Factory components

Building and construction machinery. 
Over Dimensional and International Shipping to/from Dover
Because of the complexity and sensitivity surrounding it, few trucking companies understand over dimensional shipping like we do. Individual states regulate such shipments, that typically include handling extremely large, over weight loads, very carefully. Failure to abide by those mandates, that vary from state-to-state, can lead to heavy fines and other penalties. 
Over dimensional cargo, coming to or moving from Dover are governed by Chapter 45, Title 21 of the Delaware Code. Because we understand what over-sized freight in Dover entails, we offer a premier value-added opportunity to our customers: Delivering their shipments without compromising the law. 
In addition, we also provide premium international shipping support to clients shipping large and over dimensional freight to other countries from Dover, or receiving international shipments at Dover. A network of airports supports local and international air freight via Dover, including:
New Castle Airport, Wilmington (ILG)

Philadelphia International Airport, Philadelphia (PHL)

Atlantic City International Airport, Atlantic City (ACY)

Salisbury Ocean City Wicomico Regional Airport, Salisbury (SBY)

Baltimore/Washington International Thurgood Marshall Airport, Baltimore (BWI)

Northeast Philadelphia Airport, Philadelphia (PNE)
Our Over Dimensional and International Shipping (ODIS) service acts as an end-to-end service provider on behalf of clients transporting loads by air, sea, train and other modes. This includes efficient route planning, coordination between client and 3rd parties, and taking care of all licensing, permitting and regulatory requirements.    
Freedom Heavy Haul's ODIS team supports a growing list of international destinations that include:
China

Japan

Germany

India

United Kingdom 

France 

Italy 

Brazil 

Canada 

Russia 

South Korea 

Spain 

Australia 

Mexico 

Indonesia 

Netherlands 

Saudi Arabia 

Turkey and 

Switzerland
If you don't see the destination country of your choice in this list – don't worry! We're constantly expanding our ODIS service to cover a broader network of global shipping points. Please follow this link to see an updated list of all countries that our service supports.  Or, simply call us and ask to speak with one of our knowledgeable associates who will be happy to advise you.
Construction Equipment Shipping to/from Dover
One unique feature about shipping construction equipment, that most trucking companies don't appreciate, is the time-sensitivity of those shipments. When our clients need to meet construction deadlines, they want their equipment shipped and ready for use at specific dates/times. 
Couple that with the fact that construction equipment is often large and sensitive, and you have a logistics challenge that few trucking companies are equipped to deal with. At Freedom Heavy Haul, however, we specialize in transporting all types of building and construction equipment from/to Dover, including rigs, cranes, hoists, lifts, rollers, dozers, drills, excavators, ploughs, sanders, salters, oil rigs, mining equipment and other heavy construction equipment. 
RGN, Step Deck, Flat Deck trailers available near Dover
It takes 3.5 million truck drivers, 3.6 million Class 8 trucks and 39 billion gallons of fuel to move the 10.5 billion tons annually of cargo that America depends on. The American Trucking Association (ATA) estimates that over 70% of all tonnage moved across America is carried by trucking, which represents a $700 billion-dollar industry.
And, the safety, security and timeliness of those shipments depends on high-quality RGN, Step Deck and Flat Deck trailers.
RGN Trailers Servicing near Dover
When you need your RGN trailer serviced, it's best that you only deal with a trusted service provider – because the safety of your cargo depends on your rig. Here's a list of RGN trailers servicing companies near Dover:
Dover ZIP codes
Dover ZIP codes: 19901, 19902, 19903, 19904, 19905, 19906.
Source: https://delaware.hometownlocator.com/zip-codes/zipcodes,city,dover.cfm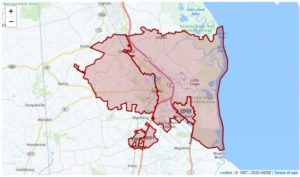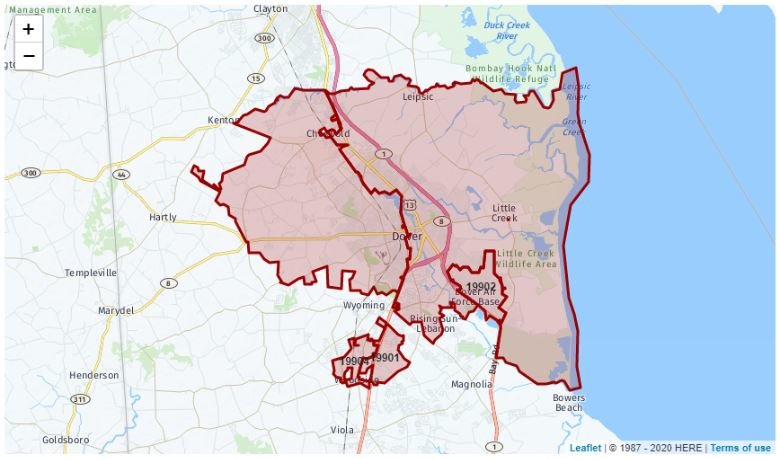 SOURCE: https://delaware.hometownlocator.com/zip-codes/zipcodes,city,dover.cfm