Bulldozer Transport Services
Freedom Heavy Haul wants to ship your Bulldozer anywhere you need it.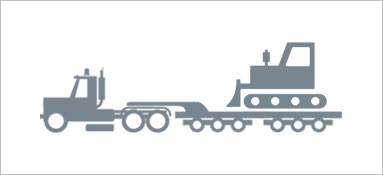 Choose Freedom Heavy Hauling to ship your bulldozer to any location in the U.S, Canada or Mexico. We specialize in point-to-point transport of heavy construction equipment. When you choose Freedom Heavy Hauling, you're choosing the best.
Your crawler tractor is in safe hands with Freedom Heavy Hauling. We only work with professional heavy-haul drivers in good standing. All of our heavy-haul operators are:
Experience heavy-haul drivers
Fully Licensed and Insured
Highly rated by customers
Our extensive network of drivers operates late-model tractors and state-of-the-art trailers. We're picky about who we work with. Most of our drivers can operate the equipment they transport. Trust Freedom Heavy Hauling to provide you with professional drivers who know how to get the job done safely and efficiently.
Ship Any Type of Bulldozer
The term bulldozer usually refers to a tractor that is equipped with a blade. The vast majority of bulldozers are tracked vehicles, but four-wheel drive, hydraulic bulldozers also exist. No matter what type of bulldozer you own, Freedom Heavy Hauling can ship it safely to any destination in the country.
While bulldozer tractors are rather standard, bulldozers attachments vary significantly. Ask your transportation agent whether your attachments can travel with your bulldozer, which will save you money. The main types of attachments used on bulldozers includes:
S-Blade. Used for fine grading, an S-blade is smaller than other attachments. It might be able to travel along with your bulldozer.
U-Blade. Taller than an S-blade, your U-blade attachment might have to travel as a separate load on another trailer.
SU- blade. Used for pushing rocks, your SU-blade attachment also might be able to travel alongside your dozer.
Ripper. A ripper blade is a claw-style device used to break rocky ground orsoil. Rippers must be detached from the dozer for transport.
Select the Proper Truck and Trailer to Haul Your Bulldozer
Freedom Heavy Haulers matches your needs with the correct trailer, every time. Expect our experienced transportation agents to recommend the proper truck-and-trailer combination to haul your crawler tractor. While keeping your costs as low as possible is our goal, some larger pieces of construction require heavy-duty trailers for safe transport.
Trailers used to transport bulldozers include:
RGN trailers.
Step Deck trailers
Larger bulldozers, those that weigh more than 30,000 pounds, travel aboard RGN trailers. RGN trailers exist in many axel configurations. The dimensions of your large bulldozer dictates which type of RGN trailer you need to transport your equipment safely. Trust your agent to help you select the type of trailer that's right for your project.
Smaller bulldozers, such as the Caterpillar D5K and the Komatsu D3, usually fit on a step-deck trailers. In general, step-deck transport is less expensive than RGN shipping. Ask your agent whether your small dozer can travel safely on a step-deck trailer.
Tips for Successfully Shipping Your Bulldozer
Make sure you provide the exact dimensions of your bulldozer to your transport agent. Dozers more than eight-feet wide usually require oversize permits. Unfortunately, there's no way to reduce the width of your bulldozer to make it fit within standards.
Your large bulldozer also might challenge height limits. Measure from the top of the cab to the bottom of the treads. Most states allow around 13-feet of vertical clearance during transport. Other considerations for transporting your bulldozer include:
Loading Your Dozer. If your smaller dozer fits on a step-deck trailer, you'll need steel ramps for loading. Most drivers have ramps, but we always make sure. Bulldozers are usually loaded from the rear of the trailer.
Shipping Your Blades. Some state regulations require you to disengage the bulldozer blade from the bulldozer while in transport. In other instances, your blade might be too large to travel aboard the same trailer as your bulldozer. Again, determining your exact blade dimensions is important.
Bulldozer Manufacturers
Smaller bulldozers can weigh less than 20,000 pounds. The largest bulldozers can weigh hundreds of thousands of pounds. Freedom Heavy Haulers ships all types of bulldozers. We've shipped bulldozers made by:
Allis Chalmers
Case
Caterpillar
Daewoo
Hitachi
Hyundai
International
John Deere
Komatsu
Mitsubishi
Terex
How much to ship a Bulldozer? Click below for your Bulldozer shipping cost quote.