Crane Transport Services
When you need construction crane transport services, you can trust Freedom Heavy Hauling to safely ship your equipment.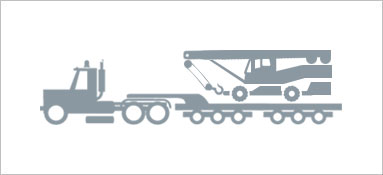 Ask Freedom Heavy Haul to ship your construction crane to any location in the U.S, Canada or Mexico. From mobile cranes to tower cranes, we connect you with expert drivers ready-and-willing to safely haul your equipment. Let us arrange your single-trailer or multi-trailer crane shipments, we͛re pros!
Your construction crane is in good hands when it travels with us. Our network of expert operators has plenty of experience transporting construction cranes. We don͛t let people learn on our jobs. Your veteran driver is:
We make sure your driver has enough backing to cover the costs of fixing or replacing your equipment, should something unforeseen occur during transport. Trust Freedom Heavy Haul to carefully screen each operator to determine which ones best qualify to haul your load. That͛s our first responsibility.
Ship Any Type of Construction Crane
Your mobile crane should fit aboard a single transport trailer, while tower cranes usually require multiple trailers of varying sizes. Mobile cranes generally fit within height, weight and length restrictions for transportation that are imposed by the states. Tower cranes normally require wide-load permits, schedules routing, plus transport-assistance vehicles and crew. The most popular types of mobile cranes include:
Rough Terrain Cranes. These mobile cranes usually travel by lowboy RGN with outriggers to support the wheels. Our most commonly shipped crane.
All Terrain Cranes. Larger than rough-terrain cranes but smaller than truck cranes, you͛ll be lucky to fit an all-terrain crane on a regular RGN trailer.
City Cranes. These smaller rough terrain cranes built to be street legal. Used in tight spaces between city buildings, most can travel on RGNs.
Truck Cranes. Hydraulic truck cranes are so big they must travel on multi-axel RGN trailers. Often shipped disassembled or non-operational.
Crawler Cranes. Another candidate for multi-axel RGNs, these gigantic cranes must be disassembled for transport. Booms travel separately.
Tower cranes are completely different beasts than mobile cranes. Massive cranes such as kangaroo cranes require shifts of specialized trucks to transport them piece-by-piece. You͛ll also need teams of crane-building specialists to dismantle and rebuild your tower cranes. Call us, we have the connections to get it done.
Trucks and Trailers to Haul Your Construction Crane
Construction cranes are so large that step-deck trailers can͛t handle them. Most mobile cranes travel to their next workstation aboard RGN trailers. Multi-piece tower cranes require a fleet of specialized RGNs. Let us match your transport needs with the proper set of trailers.
Trailers used to transport cranes include:
Extended RGN. Our roster of heavy-haul professionals includes drivers operating all types of RGNs. When you need extra axles, give us a call.
RGN. Larger mobile cranes, such as all-terrain cranes, might require a trailer with outriggers to support the machine͛s wide wheel base. We got 'em.
Are you shipping your crane locally or long distance? Freedom Heavy Haul can assist with relocating your nearby or far away. Speak with one of our seasoned agents about hiring a local company to complete your nearby moves, you might save money!
Tips for Successfully Shipping Your Construction Crane
To prepare your crane for shipping, you might need to remove parts such as the arm or the bucket. It all depends on the dimensions. You͛ll also want to clean it off and document the condition before shipping.
Mobile cranes can be shipped like any other piece of large construction machinery. For mobile-crane shipments, it's key to:
1. Choose Enough Trailer. Not every RGN trailer is built alike. Rely upon your veteran heavy-haul agent to run down your list of possible trailer choices. Your agent will guide you toward the safest option, even if it costs a little more.
Shipping tower cranes is as much logistics as it is transportation. For tower-crane shipments, it͛s important to:
2. Hire Professional Crane Shippers. Unlike the transport of other types of construction equipment, construction crane shipping requires special expertise. Our network of professional operators includes drivers who specialize in shipping large cranes on multiple trailers. Here, logistics is as important as transport.
Construction Crane Manufacturers
Freedom Heavy Haul has experience shipping cranes manufactured by all the major companies in the U.S. Among the brands of cranes we͛ve transported are:
Grove
Kato
Kobelco
Liebherr
Link Belt
Manitowoc
Terex
How much to ship a Crane ? Click below for your Crane shipping cost quote.