Excavator Transport Services
Freedom Heavy Haul wants to ship your Excavator anywhere you need it.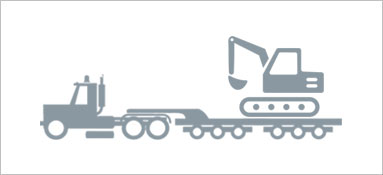 Call Freedom Heavy Haul to ship your hydraulic excavator to or from any location in the U.S, Canada or Mexico. Our drivers know how to handle excavators of any size. To work with Freedom Heavy Haul, drivers must have at least five years of experience transporting heavy equipment and machinery.
Each of our professional heavy-haul drivers is:
Licensed
Insured
Experienced
Oversize excavators are no problem. Ask us to handle the paperwork (permits, schedules and tolls) as well as the transport (tractors, trailers, drivers). Speak with one of our seasoned transport agents to find out if your smaller excavator can travel in a less expensive fashion, maybe on a hotshot trailer or as a partial load.
Ship Any Type of Hydraulic Excavator
Hydraulic excavators are used to dig trenches, holes and foundations. They're also adept at handling material on the work site. The main variation among excavators is their sizes. Your excavator transport fits into one of three categories:
Full-size excavator hauling. Full-size excavators weight more than 20,000 pounds. You'll need an RGN to transport your full-size excavator.
Midi-excavator shipping. Mid-excavators weigh between 10,000 pounds and 20,000 pounds. Midi-excavators fit nicely on step-deck trailers.
Mini-excavator transport. Mini-excavators weigh less than 10,000 pounds. Flatbed trailers, or hotshot trailers, are nice for hauling mini-excavators.
No excavator is too large for Freedom Heavy Haul. We'll even ship your super-big bucket-wheel excavator. By the same token, no excavator is too small for us to transport. Trust us to match your needs with the exact amount of trailer, no more and no less.
Trucks and Trailers to Haul Your Excavator
Work with Freedom Heavy Haul to determine the optimum trailer on which to ship your excavator. Flatbeds are the least expensive method of trailer shipping. If your excavator fits on a flatbed, let's ship it!
Remember, you'll need ramps, or preferable a loading dock, to load your excavator onto a flatbed trailer. Step-deck trailers also use ramps, while RGN trailers can be lowered to the ground for easy loading.
Trailers used to transport excavators include:
RGN Trailer. Large hydraulic excavators fit perfectly on the basic RGN trailer. Usually there are no dimensional issues to deal with.
Step Deck Trailer. Smaller hydraulic excavators, along with midi-excavators, might fit on a step-deck trailer. Step decks can be less expensive than RGNs.
Flatbed Trailer. Mini-excavators travel safely aboard flat-bed trailers. To save money, you might fit your smaller midi-excavator on a flatbed.
Large excavators ship on step-deck trailers or RGN trailers to avoid paying permit fees for equipment that exceeds height limits. Step-deck trailers offer you about two feet more clearance than flatbed trailers. Using a lowboy RGN trailer gains you another foot or so of clearance. Ask your agent about how you can avoid costly oversize permits by upgrading your trailer choice.
Tips for Successfully Shipping Your Excavator
Freedom Heavy Haul specializes in safe and efficient transport of heavy construction equipment. Hydraulic excavators are one of the most commonly shipped pieces of heavy equipment. We talk with people about shipping their hydraulic excavator every day!
Our drivers are experts at loading and unloading your heavy excavator. Three safety tips for transporting your hydraulic excavator that we've learned are:
1. Load excavator with boom facing the rear. For the safety of the driver in case of an accident, your excavator is loaded with the boom facing away from the driver.
2. Lower the excavator boom for travel. Once your excavator is in position on the trailer, we'll lower the boom to the trailer floor and lock it in place for safe travel.
3. Place supports on the rear of the trailer when loading or unloading. To keep the front end of the trailer from rising when weight shifts during transfer, block it.
Excavator Manufacturers
Freedom Heavy Haul has vast experience with shipping excavator anywhere in the nation. Trust our dedicated agent to marshal your delivery to a successful conclusion. The major brands of excavators we're asked to ship every day include:
Bell
Bobcat
Case
Caterpillar
Daewoo
Doosan
Fiat
Hitachi
Hyundai
JCB
John Deere
Kobelco
Komatsu
Kubota
Liebherr
Link-Belt
New Holland
Takeuchi
Terex
Volvo
How much to ship a Excavator? Click below for your Excavator shipping cost quote.