Farm Tractor Transport Services
If you're searching for reputable tractor transport services, look no further than Freedom Heavy Hauling to do the job right.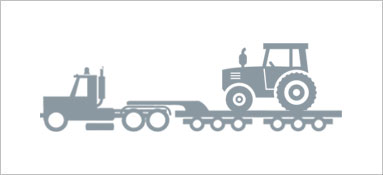 Let Freedom Heavy Hauling ship your farm tractor anywhere in the U.S., Canada or Mexico. Our drivers transport farm tractors around the country all the time. Call us today to haul your tractor without any complications or delays.
Each of our professional operators is:
Licensed
Insured
Experienced
Trust your driver to handle your tractor as if it was his own. Expect on-time delivery of your machine. Your tractor will arrive in the same condition in which it departed, no new scratches or dents. For safe and efficient transport of your farm tractor, contact Freedom Heavy Haul today.
Ship Any Type of Farm Tractor
Freedom Heavy Haul transports any type of farm tractor. From the largest row-crop tractor to the smallest utility tractor, we have the experience and know-how to deliver your machinery safely and efficiently to any point in the country.
Ask your agent about arranging oversize permits for your commercial-farm tractor. Or speak to us about shipping your lawn tractor as a partial load, to save time and money. The types of tractor transport we offer include:
4-Wheel Drive Tractor Transport. Large row-crop tractors and other four-wheel drive tractors usually ship on sturdy RGN trailers.
2-Wheel Driver Tractor Transport. Standard farm tractors ship on step-deck trailers. You'll usually driver your tractor up ramps onto the trailer.
Utility Tractor Transport. Utility tractors, which operate on 60 horsepower or less, often travel on flatbed trailers. Great if you have a dock for loading.
Smaller farm tractors can ship as a partial load on step-deck trailers or RGN trailers. Some two-wheel drive tractors also might fit on flatbed trailers. Row-crop tractors require RGN trailers because they usually need the added clearance an RGN trailer provides. Ask your knowledgeable agent to help you decide which type of trailer is right for your tractor.
Trucks and Trailers to Haul Your Farm Tractor
Freedom Heavy Haul has the experience to match your tractor with the proper transport trailer. We won't sell you more trailer than you need. On the other hand, we'll make sure your trailer can safely support your machine. Finding the proper trailer to transport your farm tractor is the first step to a successful shipment.
Since farm tractors come in all sizes, so do their transport trailers. Trailers that can be deployed to transport tractors include:
RGN Trailers. For your largest row-crop or four-wheel-drive tractors, you'll need an RGN. Talk to us about permits and planning for oversize hauls.
Step Deck Trailers. You'll save money versus an RGN if your tractor fits on a step-deck trailer. Use the upper deck for other equipment, or attachments.
Flatbed Trailers. Great for local and regional transport of your tractor, as long as you have a dock for loading. Cranes and forklifts work too.
Your tractor's horsepower indicates the type of trailer you should use. Low-horsepower tractors are transported on flatbed trailers. High horsepower tractors ship on step-deck trailers or RGN trailers. Ask your knowledgeable representative to help you choose the most economical and efficient method to ship your farm tractor.
Tips for Successfully Shipping Your Farm Tractor
Farm tractors are fairly easy to move. You can drive them onboard trailers. Tractors have lots of ground clearance for easy loading. Tractors can be heavy, so try to find a dock if you're transporting on a flatbed trailer. If you don't have a dock, you can use a crane or forklift to help load your tractor on a flatbed trailer.
You'll load a flatbed trailer from the rear. Most step-deck trailers also load from the rear. RGN trailers load from the front. A couple other tips for successfully shipping your farm tractor include:
Remove all attachments before travel. Measure your tractor and your attachments separately. Be prepared to remove them if it saves money.
Load your large tractor facing the rear. Reason: You don't want the force if the wind tugging open the hood of your tractor or damage the windshield.
Farm Tractor Manufacturers
Freedom Heavy Haul hauls farm tractors made by all the major manufacturers. Brands of tractors we've shipped include:
AGCO
Branson
Case IH
Caterpillar
Challenger
International
John Deere
Kubota
Massey Ferguson
New Holland
How much to ship a Farm Tractor? Click below for your Farm Tractor shipping cost quote.