Military Trucks Transport Services
Freedom Heavy Haul wants to ship your Military Trucks anywhere you need it.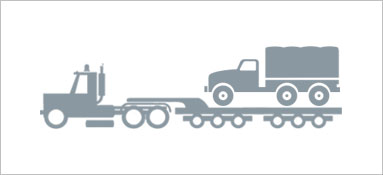 Turn to Freedom Heavy Haul to ship your military trucks anywhere in the country. Ask us to haul military trucks between bases or storage depots in the U.S., Canada or Mexico. We'll also ship your recently purchased surplus military vehicle directly to your doorstep or to any other location you desire.
Freedom Heavy Haul is proud to serve any branch of the U.S. armed forces. Many of our professional heavy-haul operators are service veterans. Each member of our network of dedicated drivers knows how to handle the transport of military equipment of any dimensions. Every one of our hand-picked drivers is:
Licensed
Insured
Experienced
Choose Freedom Heavy Haul when you need to transport your military trucks safely and conveniently. You get door-to-door, base-to-base service from qualified heavy haulers who take great care of your valuable equipment. For quality shipments at fair market prices, contact us today.
Any Type of Military Truck Transport
Count on Freedom Heavy Haul to transport any type of military truck out there, from the smallest tow-behind attachment to the largest armored tank. If they're small enough, we can fit multiple pieces of equipment on one trailer. We'll save you money any way we can!
Oversize shipments are no problem. Leave it to us to process the permit requests, calculate your tolls and fees, and arrange the support staff. Examples of military trucks we've transported recently include:
Tanks
Armored vehicles
Fighting vehicles
Combat support vehicles
Tactical vehicles
Utility vehicles
Personnel carriers
Cargo trucks
Refuelers
Allow Freedom Heavy Haul to arrange the transport of any military-style vehicle you want shipped. Our courteous and knowledgeable agents can make the deal, and our dedicated operators can deliver the goods. Call today to learn more.
Match Your Military Truck with the Proper Truck and Trailer
Let us match your heavy equipment with the correct type of trailer to get the job done. Nothing worse than overloading a trailer to the point that it fails during transport. On the other hand, there's no reason to pay for more trailer than you need. There's an art to filling your needs at just the right rate.
Rely upon your Freedom Heavy Haul agent to determine the most efficient method of shipping your military truck. You'll get the trailer you need at the best price we can find. Trailers used to transport military trucks include:
RGN Trailers. Versatile and dependable, RGNs are used to haul oversize loads. They're also employed for larger vehicles that require more stability.
Step Deck Trailers. Jeeps, trucks and vehicles that weight less than 30,000 pounds are candidates for step-deck transport.
Tips for Successfull Military Truck Hauling
Most military trucks can be driven aboard the trailer from the front or the rear. depending upon the trailer model. Remember that step-deck trailers employ steel ramps for loading, which can be a challenge for low-clearance vehicles. Other suggestions for shipping your military truck include:
Loading Your Military Trucks. If your military truck is operable, we should be able to drive it onto a trailer. Inoperable equipment might require a crane or tow truck for loading.
Checking Base Dock Schedules. Many military-base transport depots close early in the afternoon, with no weekend service. We'll double check the schedule at your pick-up and drop-off points.
Tanks and other larger pieces of military equipment are transported on extended RGN trailers. Extended RGNs have extra wheels that are used to better distribute the extra weight. Also available: low-boy trailers that provide increased clearance for taller pieces of military equipment.
Serving Military Branches Nationwide
Whether you are shipping point-to-point or base-to-base, Freedom Heavy Haul gets the job done. Do you need a driver who is qualified to enter ports or military bases? If you do, we have you covered. Our talent pool runs deep.
Speak with one of our talented transportation agents to iron out all the details on your military truck shipment. We've worked with every branch of the military we can think of, including the:
Marines
Army
Navy
Air Force
Coast Guard
National Guard
How much to ship a Military Trucks? Click below for your Military Trucks shipping cost quote.