Skid Steer Transport Services
Freedom Heavy Haul wants to ship your Skid Steer anywhere you need it.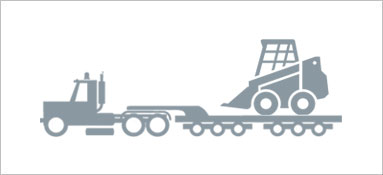 Contact Freedom Heavy Haul to ship your skid steer loaders anywhere in the U.S, Canada or Mexico. Our drivers have vast experience hauling skid steer around the country. All of our professional operators have:
Up-to-date license and insurance
At least 5 years of heavy-haul experience
Excellent customer approval ratings
Most of our heavy-haul drivers can operate your skid steer loader safely. With our experienced operators, you don't need to be there to load or unload your skid steer. Our goal is to provide you with enough great service that you'll want to come back.
Ship Any Type of Skid Steer
Skid steers are used to move material, dig holes and clear snow. The capability of the machine is limited only by the attachment you choose. From a transport standpoint, the low ground-clearance ratio of most skid steers makes them difficult if the ramps to the trailer are too steep.
Skid steer loaders are fairly standard, with most weighing less than 20,000 pounds and standing less than 8-feet-tall. The two main types of skid-steer loaders are:
Skid Steer Loader. Maneuverable in tight spaces due to its side synchronization, the skid-steer loader fits on the upper deck of step decks.
Multi-terrain Loader. Though it's not really a skid steer because it doesn't slide, this tracked loader has all the other characteristics of the machine.
Speak with one of our trusted agents about shipping your skid-steer attachments alongside your machine. You'll save money if you combine you transport your machine and its attachments in the same load. Otherwise, we'll search out contacts to locate partial-load space on another transport headed your way.
Trucks and Trailers to Ship Your Skid Steer
Depending upon the attachment, skid steers can be hauled on a variety of transport trailers. Your skid steer won't take up the entire trailer, so ask your agent to search for partial-load availability. Partial loads sometimes save you money, but sometimes they don't. It never hurts to ask.
Another option is to wait to ship your skid steer until you have other equipment headed to the same location. With their maneuverability and standard dimensions, skid steers are frequent add-ons for heavy-haul loads. Trailers used to transport skid steer loaders include:
RGN Trailer. While renting an entire RGN isn't worth it, you might be able to find partial-load space. Sometimes cost is secondary, speed is primary.
Step Deck Trailer. Some skid steers fit snugly on the upper deck of a step-deck trailer. Like RGNs, we can search for partial-load space on a step deck.
Flatbed Trailer. Most skid steers fit within the dimensional regulations ofmost states. Your only worry is the height, where you have about 13 feet.
One other possibility for shipping your skid steer is a hotshot trailer. Hotshots are great for local and regional moves. They work well for long-distance skid-steer shipments too, but the savings derived versus a step-deck can be negligible over a long haul. Ask your agent to include hotshot trailers in your search, then compare.
Tips for Successfully Shipping Your Skid Steer
Most skid steers ship on flatbed trailers, the most economical method of heavy-haul transport. If your machinery fits on a flatbed, ship it. Remember that you'll need a method of loading your skid steer onto the flatbed, which doesn't tilt down.
Use a loading dock to load your skid steer onboard a flatbed. Back the skid steer onto the trailer, so the attachments are facing away from the driver. Though the machine's low clearance makes it slightly more difficult, you also can use steel ramps to help load your skid steer. Longer ramps work best.
Your skid steer might contain attachments such as sweeper, auger, mower, tiller, ripper and trencher. Discuss with your agent which, if any, attachment you'll leave connected. Always include attachments in your dimensional calculations. Attachments for your skid steer also can include:
Angle Brooms
Hydraulic Breakers
Pallet Forks
Snow Blade
Snow Blower
Stump Grinder
Skid Steer Manufacturers
Freedom Heavy Haul has years of experience transporting skid steers. Speak with one of our seasoned professionals to learn more about your options for shipping your skid steer. We've transported skid steers from major manufacturers such as:
Bobcat
Case
Caterpillar
Daewoo
Fiat-Hitachi
Hyundai
JCB
John Deere
Komatsu
New Holland
Takeuchi
Toyota
Volvo
How much to ship a Skid Steer? Click below for your Skid Steer shipping cost quote.