Wheel Loader Transport Services
Freedom Heavy Haul wants to ship your Wheel Loader anywhere you need it.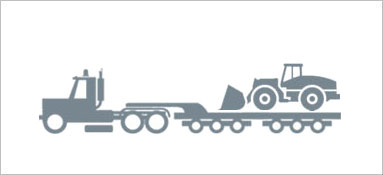 Ship your wheel loader anywhere in the U.S., Canada or Mexico with Freedom Heavy Haul. You should expect your driver to be able to operate a wheel loader. Experience behind the wheel of the equipment counts when it comes to loading and unloading, as well as securing the load.
Freedom Heavy Haul works exclusively with experienced heavy-haul drivers. Our network of professional operators is extensive enough that we don't have to deal with rookies or low-ranked operators. You can be sure that each driver is hand-picked for the occasion.
All of our drivers possess:
Proper Operating Permits
Adequate Business Insurance
Positive Customer Ratings
Ship Any Type of Wheel Loader
Wheel loaders are used to scoop up loose material from a worksite. The machines often are employed to fill dump trucks or trenches. Though most wheel-loaders are the same, varying mainly by dimensions, there are three distinct types:
Front End Loaders. Another name for wheel loaders, front end loaders typically ship with both front and rear attachments still connected.
Compact Wheel Loaders. At less than 100 horsepower, compact wheel loaders provide you with more trailer options for easy transport.
Tracked loaders. Similar to wheel loaders, front-end loaders with tracks are used when the soil at the worksite is too soft to support wheeled vehicles.
Wheel loaders can support multitudes of attachments. Some brands offer more than 50 attachments, including includes forks, grapples, brooms, sweepers, power rakes and cutting heads. Wheel loaders also operate snow removal attachments such as buckets, blowers and pushers.
Trucks and Trailers to Haul Your Wheel Loader
Also called bucket loaders, wheel loaders are frequently shipped to destinations around the country. Their mobility and design make them among the easiest pieces of heavy equipment to load and transport.
Usually you just drive your wheel loader aboard the trailer, then secure it for transport. Their large wheelbase allows them to navigate ramps with no problems. If your wheel loader is inoperable, we can still ship it. Ask your transport agent for details.
Trailers used to transport wheel loaders include:
RGN Trailers. Larger wheel loaders require RGN trailers for safe transport.Speak with your agent about arranging any oversize permits or transport.
Step Deck Trailers. Your smaller wheel loader is a candidate for transport on a step-deck trailer, or maybe even a hotshot trailer. Ask your agent.
Flatbed Trailers. Compact wheel loaders can be shipped aboard flatbed trailers. Just make sure you have a dock for loading; flatbeds don't tilt.
Ask Freedom Heavy Haul about shipping your wheel-loader attachments alongside your wheel loader. It's more cost effective to rent an entire step-deck trailer – so you can include your attachments in the same load as your machine – than it is to break your shipment into multiple loads.
Tips for Successfully Shipping Your Wheel Loader
All heavy equipment should be cleaned before transportation. Drivers hate it when rocks and debris fall from equipment during transport. A clean machine also allows you to see whether oil or other lubricants may be leaking, before shipping. Drivers hate leaking machines, too.
If your wheel loader is more than 11-feet tall, or weighs more than 30,000 pounds, you'll need to consider an RGN trailer rather than a step-deck trailer. RGN trailers offer about a foot more clearance than step-deck trailers. Which reminds us to tell you to:
Include attachments in your measurements. Sounds simple, but some people assume that attachments must be removed for travel. You have to ship them anyway, might as well leave them attached. But makes sure you measure them.
Lower attachment once loaded on trailer. Your wheel loader is on its trailer with the attachments facing the rear, away from the driver. Once onboard, the attachment will be lowered and secured to the floor of the trailer.
Wheel Loader Manufacturers
Freedom Heavy Haul ships wheel loaders from all the major manufacturers. Our highly trained drivers have experience handling equipment made by:
Allis Chalmers
Bell
Bobcat
Case
Caterpillar
Hitachi
Hyundai
JCB
John Deere
Kawasaki
Kobelco
Komatsu
Link-Belt
New Holland
Schaeff
Terex
Volvo
How much to ship a Wheel Loader? Click below for your Wheel Loader shipping cost quote.