Heavy Equipment Shipping Companies Near Clarkstown, New York
Do you need to transport large industrial machinery and cargo? We can give you a hand! Freedom Heavy Haul specializes in large shipments including over-weight loads over 200,000 lbs. We can arrange shipping for the heaviest machinery to and from any point in New York State. We provide cross-country and international shipping under our ODIS service. Reach out to us and we'll go to work for you.
Long Distance Machinery Transport to/from Clarkstown
Clarkstown is located in South New York State, 40 miles away from New York City. Clarkstown is located in Rockland County, NY. According to the latest census, Clarkstown has a population of 84,197 residents making it the #20th largest city in the state of New York. Clarkstown is the most important city in Rockland County and is the seat of the county's Police Department, Police Sherriff office, and the local correctional facility. Clarkstown is located in the east of Rockland County. It is located north of Orangetown, east of Ramapo, south of Haverstraw and west of the Hudson River. 
According to the US Census Bureau, Clarkstown covers a total area of 47 square miles of which nearly 18% is water – due to the city's location near the Hudson River. The Hudson defines the entire eastern border of Clarkstown and the city sits opposite of Westchester County's borders across the town of Mount Pleasant. The main interstate connecting Clarkstown to NCY is the New York State Thruway 87. 
Clarkstown received awards for its high quality of living and ranks among the best places to live in the United States. The city's government became one of the first in the United States to successfully reduce all carbon dioxide emissions by 7% before 2012. Since then, the city has been ranked as the 7th best small city to live in America by CNNMoney. It ranks among the safest cities for families, and it was named the #8th safest city in America according to CQ Press. 
We at Freedom Heavy Haul can help your business thrive in Clarkstown by hauling heavy machinery and industrial cargo. As one of the best-equipped transport companies, you can rely on us to transport all of the following:Â 
Plants.

Oil rigs, pipes, and related machinery.

Industrial and commercial equipment.

Mining machinery.

Turbines.

Agricultural machinery.

Cranes.

Hotel and restaurant appliances.

Factory components.

Building and construction machinery.  
Over Dimensional and International Shipping to/from Clarkstown
In order to ship heavy industrial machinery, you must ensure it abides by the regulations imposed by New York State; and other states for cross-country shipping. At Freedom Heavy Haul we deal with shipments that surpass most state maximums when it comes to height, length, and weight. This is why we obtain special permits for our clients that last for the duration of the trip. 
We have a dedicated international shipping team that ships to numerous destinations worldwide. Freedom Heavy Haul's ODIS service extends to heavy machinery – if you need to ship industrial equipment/cargo from Clarkstown into Europe, Asia, Latin America, or any other location. We coordinate the shipment based on the most express method to the final destination. If you need to ship to Canada, we can haul the equipment with our trucks. If you need to ship to Europe, we'll bring your cargo to a large seaport where it will depart for an international destination. We frequently ship to the following countries: 
China

Japan

Germany

India

United Kingdom 

France 

Italy 

Brazil 

Canada 

Russia 

South Korea 

Spain 

Australia 

Mexico 

Indonesia 

Netherlands 

Saudi Arabia 

Turkey and 

Switzerland
Freedom Heavy Haul's ODIS service covers other countries too. The list above only covers our most sought-after destinations. If you want to check the full list of available countries, please visit this link. The ODIS service includes all necessary permits that we need to bring your equipment to the international airport or seaport from where it will reach the final destination.
In order to find out more about over-dimensional and heavy cargo, please read the State of New York Permissible Weight Table. 
Construction Equipment Shipping to/from Clarkstown
Clarkstown construction businesses rely on heavy machinery to build commercial and residential real estate. We help haul their equipment to any job site in the city and we can even transport coast-to-coast. We cover you for all construction equipment such as rigs, cranes, hoists, lifts, rollers, drills, and more. 
Your equipment is safe in our hands! We have the best drivers in the country and our dedicated team plans out the entire trajectory of the shipment ahead of time to ensure the cargo arrives on time. 
RGN Trailers Servicing near Clarkstown
For safety on public roads, you need a reliable rig. Rig servicing is paramount for all transport trucks because the cargo might malfunction if it's not properly maintained. The following is a list of reliable RGN service firms near Clarkstown:Â 
RGN, Step Deck, Flat Deck trailers available near Clarkstown
Clarkstown is located in close proximity to Westchester County and New York City. It serves as a major transit point for all cargo traveling from NYC ports to Upstate New York and the other way around. The city is connected by numerous highways and millions of tons of cargo transit in the area each year. Most of this cargo is loaded onto transport trucks. To make sure your truck has the capacity necessary to transport heavy cargo, you need the right trailer. Here's a list of trailers available in the Clarkstown area:Â 
Clarkstown ZIP codes
Clarkstown ZIP codes: 10956, 10920, 10954, 10960, 10989, 10994.
Source: https://myzip-code.com/postalcode/Clarkstown-NY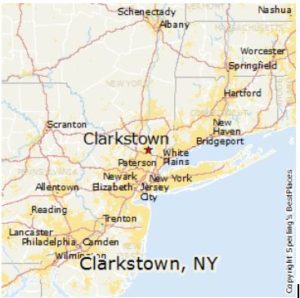 Source: https://www.bestplaces.net/city/new-york/clarkstown