Heavy Equipment Shipping Companies Near Coral Springs, Florida
Freedom Heavy Haul is the premier heavy-hauling company for businesses that need to move machinery and equipment that exceeds maximum size & weight limits imposed by each state. Regardless of whether you need equipment for construction, engineering, mining, petroleum, or any industrial purpose – we're there to ensure your equipment is moved on time and arrives on time. We guarantee safe transportation and consult with Florida State authorities to make doing business in Coral Springs easy for our clients.
Long Distance Machinery Transport to/from Coral Springs
Coral Springs is located in Central-Eastern Florida, at the edge of Broward County. The city is only 20 miles north of Fort Lauderdale. According to the last census, Coral Springs has a population of 121,096 people residing in the city proper. Coral Springs is part of the larger Miami-Dade-Fort-Lauderdale Statistical area where currently more than 6.8M people reside. 
Coral Springs was founded in 1963 by Coral Ridge Properties and the city's name was derived from the developer company, later acquired by Westinghouse. The project was picked among many other proposals. There are currently no springs in the city, despite the name. 
Coral Springs saw massive growth during the 70s and 90s when the population grew at an average of 35,000 citizens per decade. Coral Springs is rated one of the best cities to live in the United States based on life quality and the administration applies restrictive building codes in order to preserve its charm. The city administration has won awards for its effective fiscal policy, low crime rate, family-friendly community, and low unemployment. Coral Springs is close to Fort Lauderdale and has direct connections to Orlando, making it one of the most connected cities in terms of infrastructure. 
We at Freedom Heavy Haul help companies based out of Coral Springs conduct business in the city by hauling oversize machinery and cargo. We can ship any of the following machines to Coral Springs:Â 
Plants

Oil rigs, pipes, and related machinery

Industrial and commercial equipment

Mining machinery

Turbine

Agricultural machinery

Cranes

Hotel and restaurant appliances

Factory components

Building and construction machinery. 
Over Dimensional and International Shipping to/from Coral Springs
Coral Springs has strict measurements in terms of truck cargo limits and all transport companies must abide by the limits. If transporting heavy machinery is integral to your business, we can obtain the permits necessary by the Florida State government which will allow your machinery a safe transit on our trucks. We know all the critical highways and bridges that are open to oversize shipments and lead into Coral Springs and we can help your business thrive by delivering your machinery on time. 
Moreover, our ODIS team organizes international shipments for heavy machinery from Coral Springs to dozens of international destinations. Need to ship your construction equipment to Germany or China? We have you covered! We can pick up and haul your machines from any point in Florida State and haul it to a different location in the USA or load it on an international shipping port. The following countries are our most popular shipping destinations:Â 
China

Japan

Germany

India

United Kingdom 

France 

Italy 

Brazil 

Canada 

Russia 

South Korea 

Spain 

Australia 

Mexico 

Indonesia 

Netherlands 

Saudi Arabia 

Turkey and 

Switzerland
Freedom Heavy Haul services several other destinations – to view the full list of international countries we ship to visit the following link. Our international ODIS service ensures permits for equipment are arranged in advance. This way there are no holdups while your equipment is being hauled to a shipping port of choice. We'll cover you thoroughly for the duration of your shipment. 
All over-sized equipment coming from Coral Springs or entering the city has to abide by regulation set by the Florida State Permissible Weight Table. 
Construction Equipment Shipping to/from Coral Springs
For construction companies in Coral Springs and Miami-Dade County, we can assist by hauling critical construction equipment that falls beyond regular shipping limits. This includes equipment such as rigs, cranes, hoists, dozers, rollers, drills, and more. Reach out to us and we'll give you the best deal on construction equipment transport in Coral Springs. 
Our team plans the entire shipment in advance. We secure all permits necessary before our trucks arrive at the pickup point, and we immediately depart for the destination.
RGN Trailers Servicing near Coral Springs
The most essential feature of a transport truck is the RGN trailer that transports cargo on the truck. Each RGN trailer has to receive regular maintenance in order to stay safe on the road. The following is a list of the top RGN trailer services near Coral Springs:
RGN, Step Deck, Flat Deck trailers available near Coral Springs
Coral Springs is a thriving city at the northern edge of Miami-Dade county and one of the best cities to conduct business in the state. It is well-connected by highways to nearby Fort Lauderdale and key ports such as Port Everglades. If you want to transport cargo from these key locations, you have to get the best trailer for the truck. The following is a list of the top trailers currently available in the Coral Springs area:Â 
Coral Springs ZIP codes
Coral Springs ZIP CODE LIST:
33063 33065 33067 33071 33075 33076 33077 33376
Source: https://www.zip-codes.com/city/fl-coral-springs.asp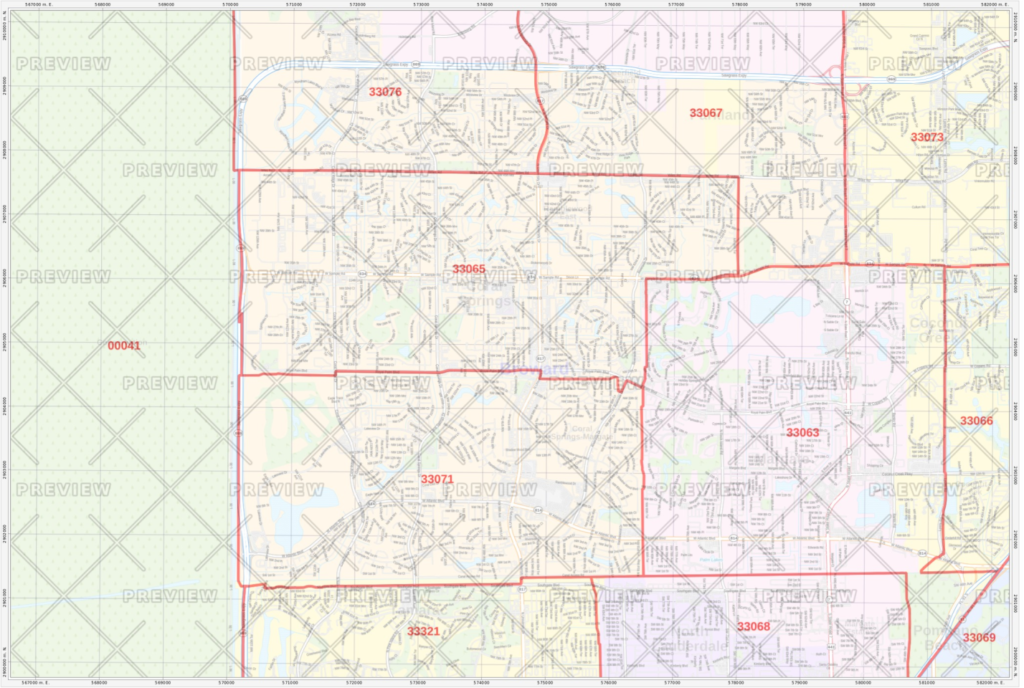 Source: https://www.maptrove.com/coral-springs-zip-code-map-florida.html