Heavy Equipment Shipping Companies Near Houston
Freedom Heavy Haul is ideally equipped to support your movement of heavy equipment and cargo, for both international and cross-country shipping. Whether it's construction or aerospace equipment, or heavy equipment for engineering, railroads, or oil & gas use – we'll ensure your precious load gets there on time, every time!
Other heavy equipment shippers near Houston:
Long Distance Machinery Transport to/from Houston
The fourth-largest city in America, Houston, is also the largest city in the state of Texas. The city boasts of over 145 languages spoken, and has a metropolitan area well in excess of 8,700 square miles. It headquarters several Fortune 500 companies and, of course, is home to America's space exploration agency NASA.    
Freedom Heavy Haul specializes in long distance transport of machinery. As one of the nation's premier heavy haulage companies, we'll ship any machinery from/to Houston, including:
Plants

Oil rigs, pipes and related machinery

Industrial and commercial equipment

Mining machinery

Turbines

Agricultural machinery

Cranes

Hotel and restaurant appliances

Factory components

Building and construction machinery.  
Over Dimensional and International Shipping to/from Philadelphia
Over dimensional freight refers to any cargo that's above the legally-defined criteria set out by individual states. We frequently deal with shipments that are both overweight and over-dimensional – which requires careful routing through permitted routes (roads, bridges, highways) only.
Our ODIS service responds to needs of clients who ship large, heavy, overweight, over-sized and wide load cargo from/to Philadelphia and across the USA. Freedom Heavy Haul also coordinates pickup of in/out-bound deliveries to/from Philadelphia and shipments from/to several countries through designated shipping, rail, air and land ports, terminals and stations within the United States. These cover popular shipping destinations, including:
China

Japan

Germany

India

United Kingdom 

France 

Italy 

Brazil 

Canada 

Russia 

South Korea 

Spain 

Australia 

Mexico 

Indonesia 

Netherlands 

Saudi Arabia 

Turkey and 

Switzerland
However, out International Shipping services also covers many other popular destinations. Please follow this link to see an updated list of all countries that our service supports. As part of our ODIS service, we'll ensure that all requisite State-level permits, to get your loads from/to entry/destination, are in-hand to deliver this service.
Over-dimensional cargo travelling from/to Houston is regulated by the State of Texas Permissible Weight Table. 
Construction Equipment Shipping to/from Houston
At Freedom Heavy Haul, we don't just ship goods and cargo, but we also specialize in shipping all types of rigs, cranes, hoists, lifts, rollers, dozers, drills, excavators, ploughs, sanders, salters, oil rigs, mining equipment and other heavy construction equipment from/to Houston. 
We'll take on the responsibility for planning and coordinating the entire shipment between your organization, local/State authorities, sub-contracting agents and 3rd-party service providers.  
RGN, Step Deck, Flat Deck trailers available near Houston
Houston is America's 4th largest city, with truck drivers rating 1 of every 10 open jobs in that south-Texas city. It's no wonder that the city ranks #6 (out of 10) on the list of Top Cities for truck drivers
This content will be standard – with some slight changes}
Trucking is an estimated $700 billion-dollar industry in America. Trucks transport an overwhelming majority of inland freight across the United States. Estimates by the American Trucking Association (ATA) confirm that over 70% of tonnage hauled by all domestic modes were carried by trucks.  However, if you want to transport your cargo safely and efficiently, you need the right trailer.
Houston ZIP codes
Zip codes: 77002, 77003, 77004, 77005, 77006, 77007, 77008, 77009, 77010, 77011, 77021, 77022, 77023, 77024, 77025, 77026, 77027, 77028, 77029, 77030, 77040, 77041, 77042, 77043, 77044, 77045, 77046, 77047, 77048, 77049, 77059, 77060, 77061, 77062, 77063, 77064, 77065, 77066, 77067, 77068, 77078, 77079, 77080, 77081, 77082, 77083, 77084, 77085, 77086, 77087, 77098, 77099, 77204, 77325, 77336, 77338, 77339, 77345, 77346, 77354, 77384, 77385, 77386, 77388, 77389, 77396, 77401, 77406, 77407, 77429, 77479, 77484, 77489, 77492, 77493, 77494, 77497, 77498, 77502, 77503, 77547, 77571, 77573, 77574, 77578, 77581, 77584, 77586, 77587, 77588.
Source: https://www.houstonproperties.com/houston-neighborhoods/houston-zip-code-map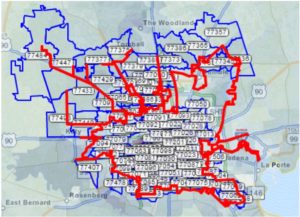 SOURCE: https://cohweb.houstontx.gov/zipcodepublic/ (Also see: Zip Code Map )