Heavy Equipment Shipping Companies Near New York City, NY
Freedom Heavy Haul is ideally equipped to support your movement of heavy equipment and cargo for cross-country and international shipping. Whether it's construction or aerospace equipment, or heavy equipment for engineering, railroads, or oil & gas use – we'll ensure your precious load gets there on time, every time!
Freedom Heavy Haul possesses the shipping infrastructure necessary to ship all heavy equipment and machinery from New York City to destinations in the contingent US and internationally. Our clients are companies in construction, engineering, aerospace, petroleum, and other industries. Our specialty is to haul the heaviest loads and we ship on time – in a New York minute! Give us a call and we'll go to work for you. 
Freedom Heavy Haul ships directly from the 5 boroughs of New York City:
Manhattan

Brooklyn

Queens

Bronx

Staten Island
Long Distance Machinery Transport to/from New York City
New York City (NYC) is a city located in the North-Eastern USA and the largest city in the country. New York City has a population of 8,398,748 in the city core and covers a total of 302 square miles. The city is the most densely packed city in the USA and the largest metropolitan area in the world in terms of urban landmass. 
The combined NYC Metropolitan Statistical Area has approximately 23 million residents, making it one of the largest in the world. The city is described as the cultural, financial, and medical center of the world. It is famous for politics, research, finance, technology, art, and fashion. New York City is a global hub of commerce of trade and the headquarters of the United Nations. 
NYC is split into 5 boroughs: Manhattan, Brooklyn, Queens, Bronx & Staten Island. The boroughs were consolidated in a single city in 1897. The city of New York is the most diverse city in the world and the primary gateway for legal migration into the United States. It is estimated that nearly 800 different languages are spoken in the city, making it the most linguistically diverse city in the world. 
The City has the largest foreign-born population of any city in the country, with over 3.2 million residents being born outside the United States. New York City's economy is the largest of any city in the country, estimated at $2T dollars. If the city was an independent country, it would have the #12th largest GDP in the world. New York City has the highest density of billionaires of any city in the world. 
Freedom Heavy Haul can provide shipping from every borough in the city. Shipping from NYC is complex and may be expensive – this is why you should hire us to obtain the permits for you and make sure your cargo arrives on time. As one of the largest heavy-hauling companies in the USA, we can ship the following machinery from and to NYC:Â 
Plants.

Oil rigs, pipes, and related machinery.

Industrial and commercial equipment.

Mining machinery.

Turbines.

Agricultural machinery.

Cranes.

Hotel and restaurant appliances.

Factory components.

Building and construction machinery.
Over Dimensional and International Shipping to/from New York City
New York City has strict regulations on trucks that are permitted to drive through the city. All cargo surpassing 80,000 lbs. has to be transported at night and the permits may take up to 2 weeks to issue (for 'Super Loads'). 
Permits in NYC are issued for several hours at a time and the driver has to transit within those hours or the permit is void. 

Each truck has to be marked as an 'Oversize Load' and only transit through permitted bridges and highways. We can ensure your shipment meets all city requirements.
Freedom Heavy Hauling provides an ODIS international transport service directly from New York City to any population destination in the world. We can ship your equipment from any point in New York State and load it on a seaport or an airport to another country. 
We frequently ship to the largest New York & New Jersey Port where most cargo departing from NYC is shipped from. We have access to all major terminals and seaports in the state and we can ship to the following countries:
China

Japan

Germany

India

United Kingdom 

France 

Italy 

Brazil 

Canada 

Russia 

South Korea 

Spain 

Australia 

Mexico 

Indonesia 

Netherlands 

Saudi Arabia 

Turkey and 

Switzerland
Our ODIS service extends to other countries as well! Kindly visit the following link to browse the full list of countries we currently service. Freedom Heavy Haul's ODIS service includes all privileges of domestic shipping such as NYS permits, NYC-specific permits, hauling from any pickup destination, and loading the equipment on the international sea port. 
All cargo exceeding the dimensions imposed by New York State has to be marked as "Oversize". Here's a table of the State of New York Permissible Weight. 
Construction Equipment Shipping to/from New York City
New York City has a booming real-estate sector with thousands of construction sites. Companies need to haul their equipment from one construction site to another in order to complete their projects. If you want to move your machinery from a location in NYC or any other city in the United States – give us a call! We'll haul construction equipment such as drills, dozers, rollers, hoists, cranes, excavators, sanders, and more. 
Freedom Heavy Haul takes responsibility for the safety of your shipment on NYC roads. We consult all authorities in advance in order to plan out your shipment and hire subcontractors to expedite the process. 
RGN Trailers Servicing near New York City
New York City is a dense area where safety is paramount which is why you need to get regular RGN trailer servicing for your trailer. If you want to service your RGN trailer, here's a list of the top service companies in New York City:Â 
RGN, Step Deck, Flat Deck trailers available near New York City
New York City has a thriving trucking sector that employs nearly 300,000 people. In the state, nearly 1 out of all 27 persons is employed in the trucking industry. According to the US Bureau of Labor Statistics, 90,000 truck drivers were employed in the New York City alone. 
Most inland freight in the United States is transported by trucks. Certain estimates claim that 70% of all cargo is transported by trucks. If you want to ensure your shipment arrives on time, you have to get the right trailer for the job. The following is a list of the top available trailers in New York City:Â 
New York City ZIP codes
New York City ZIP codes: 10001, 10002, 10003, 10004, 10005, 10006, 10007, 10008, 10009, 10010, 10011, 10012, 10013, 10014, 10016, 10017, 10018, 10019, 10020, 10021, 10022, 10023, 10024, 10025, 10026, 10027, 10028, 10029, 10030, 10031, 10032, 10033, 10034, 10035, 10036, 10037, 10038, 10039, 10040, 10041, 10043, 10044, 10045, 10055, 10060, 10065, 10069, 10075, 10080, 10081, 10087, 10090, 10095, 10101, 10102, 10103, 10104, 10105, 10106, 10107, 10108, 10109, 10110, 10111, 10112, 10113, 10114, 10115, 10116, 10117, 10118, 10119, 10120, 10121, 10122, 10123, 10124, 10126, 10128, 10129, 10130, 10131, 10132, 10133, 10138, 10150, 10151, 10152, 10153, 10154, 10155, 10156, 10157, 10158, 10159, 10160, 10161, 10162, 10163, 10164, 10165, 10166, 10167, 10168, 10169, 10170, 10171, 10172, 10173, 10174, 10175, 10176, 10177, 10178, 10179, 10185, 10199, 10203, 10211, 10212, 10213, 10242, 10249, 10256, 10257, 10258, 10259, 10260, 10261, 10265, 10268, 10269, 10270, 10271, 10272, 10273, 10274, 10275, 10276, 10277, 10278, 10279, 10280, 10281, 10282, 10285, 10286, 10292, 10301, 10302, 10303, 10304, 10305, 10306, 10307, 10308, 10309, 10310, 10311, 10312, 10313, 10314, 10451, 10452, 10453, 10454, 10455, 10456, 10457, 10458, 10459, 10460, 10461, 10462, 10463, 10464, 10465, 10466, 10467, 10468, 10469, 10470, 10471, 10472, 10473, 10474, 10475, 10499, 10705, 11001, 11003, 11004, 11005, 11040, 11096, 11101, 11102, 11103, 11104.
Source: https://www.zip-codes.com/city/ny-new-york.asp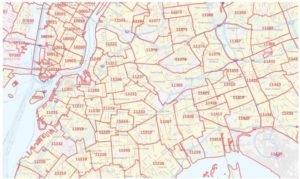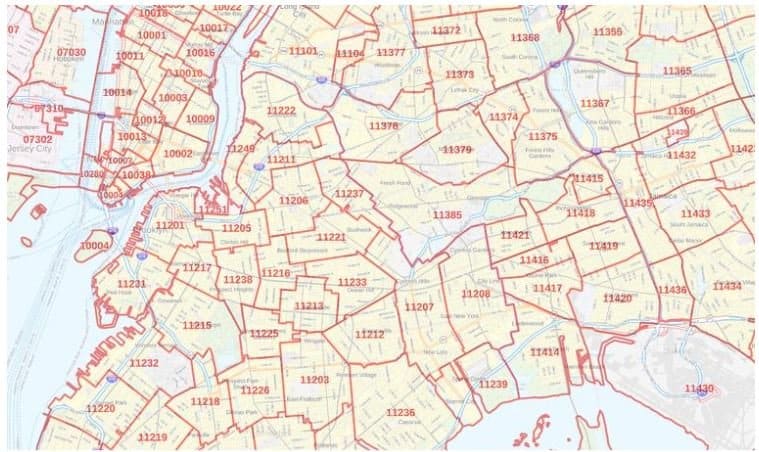 Source: https://www.maptrove.com/new-york-city-new-york-zip-codes.html