Heavy Equipment Shipping Companies Near Syracuse, New York
Want to ship heavy cargo & machinery from Syracuse to any location in New York State or the country? Give us a call! Freedom Heavy Haul is one of the premier heavy hauling companies in the USA. We can ship overweight cargo and large industrial machines used for construction/real estate, engineering, petroleum, mining, and more. Reach out to us and we'll arrange a route for your shipment immediately!
Long Distance Machinery Transport to/from Syracuse
Syracuse is located in Central-Northern New York and known as the "Heart of New York". Syracuse is the seat of Onondaga County, NY, and one of the most populous cities in the state. According to the last census, Syracuse has a population of 145,252 residents within the metro core. This makes it the #12th most populous city in the state of New York. However, the larger Syracuse Metropolitan Area is home to 662,577 inhabitants, making it the #5th largest in the state after NYC, Buffalo, Rochester, and Albany. 
Syracuse is considered the economic powerhouse of Central New York State, a region that has nearly 1M residents. Syracuse is famous for numerous convention sites and it has a large downtown. The city was named after a city in Italy called Syracuse. The original name of the city is of Greek origin. Syracuse has an important history for being one of the trade centers in New York State. The city boomed with the introduction of a rail network and the connection of Erie Canal with other branch canals. 
Currently, Syracuse is situated on a major intersection between highways I-81 and I-90. Syracuse has the biggest airport in the region which connects Central New York to the rest of the world. The largest university in the city is Syracuse University which is considered a major research university. Le Monye College and SUNY Upstate Medical University are also headquartered in the city. The main campus of the SUNY College Environmental Science system is located in Syracuse. The college focuses on forestry and the environment. 
In order to conduct business in Syracuse, you're going to need to move your machinery within the city or other cities in New York State. We at Freedom Heavy Haul can help your business streamline its projects by moving your machinery on time. The following is a list of machines we can ship:Â 
Plants.

Oil rigs, pipes, and related machinery.

Industrial and commercial equipment.

Mining machinery.

Turbines.

Agricultural machinery.

Cranes.

Hotel and restaurant appliances.

Factory components.

Building and construction machinery.  
Over Dimensional and International Shipping to/from Syracuse
All over-dimensional cargo traveling to and from Syracuse has to abide by the safety standards imposed by the NYSDOT. In particular, the shipments have to be marked as "Oversize" and transit at permitted highways. Our trucks are equipped for maximum safety and we obtain permits for our clients in order to transfer their equipment within days. 
We offer a special international shipping service for international cargo between Syracuse and other counties. We can ship directly to nearby Canada, or we can haul your equipment to one of the major sea terminals in NYC and ship to any international destination of choice. We can ship the heaviest goods internationally. We ship cargo that exceeds New York State limits by planning the route and securing special permits by state authorities. We frequently ship to the following counties:Â 
China

Japan

Germany

India

United Kingdom 

France 

Italy 

Brazil 

Canada 

Russia 

South Korea 

Spain 

Australia 

Mexico 

Indonesia 

Netherlands 

Saudi Arabia 

Turkey and 

Switzerland
We can ship from Syracuse to other countries as well! The list above only showcases popular destinations. To check the full list of countries we service visit this link. The ODIS service provides all the privileges of domestic US shipping including special permits required by New York State and NYC (if the shipment requires transit through NYC). 
If you want to find out more, visit the State of New York Permissible Weight Table to learn about legal shipping limits without obtaining a permit. 
Construction Equipment Shipping to/from Syracuse
Construction equipment is heavy because it's used to haul building materials. This is why shipping construction equipment should only be done by experienced companies. We'll help you ship your construction equipment such as rigs, rollers, dozers, cranes, hoists, sanders, and more. We support clients in real estate development in Syracuse by making sure their shipment arrives on time. 
If your shipment is time-sensitive and you want to expedite the process, we'll hire other subcontractors and agents who can help us rush your shipment in order to meet deadlines. Give us a call and let's discuss your project. 
RGN Trailers Servicing near Syracuse
RGN Trailers are attached to large trucks and the safety of the cargo being shipped is dependent on the condition of the trailer. This is why you should only entrust experienced service providers to carry out maintenance on your trailer. The following is a list of the top RGN trailer services near Syracuse:
RGN, Step Deck, Flat Deck trailers available near Syracuse
Syracuse is the central hub for commerce in Central New York and it connects NYC to all major cities in Upstate New York including Canada. Millions of tons of cargo are shipped directly on Syracuse roads. Most shipments in the area are carried by trucks. The trucking industry is booming and the only way to ensure your shipment arrives safely is to get the right trailer. Here's a list of trailers available near Syracuse:
Syracuse ZIP codes
Syracuse ZIP codes: 13201, 13202, 13203, 13204, 13205, 13206, 13207, 13208, 13210, 13214, 13217, 13218, 13219, 13224, 13235, 13244, 13250, 13251, 13252, 13261, 13290.
Source: https://www.zip-codes.com/city/ny-syracuse.asp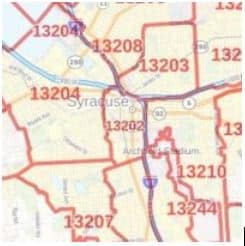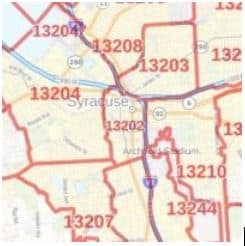 Source: https://www.maptrove.com/maps-for-business/zip-codes/new-york/syracuse-zip-code-map-new-york.html