Heavy Equipment Shipping Companies Near Yonkers, New York
We provide support and logistics for businesses that need to transfer their machinery from any point in Yonkers and New York State. Need to move cranes, rigs, rollers, dozers, and other equipment that exceeds state limits? Give us a call and we'll haul your machinery to and from Yonkers. Freedom Heavy Haul provides cross-country and international shipping for our clients in the NYC and Yonkers area. 
Long Distance Machinery Transport to/from Yonkers
Yonkers is located in southern Westchester County, NY. Yonkers is one of the largest inner suburbs of New York City, located north of Bronx and within a 3-mile distance from Manhattan. Due to its proximity to Manhattan, it is one of the most populated suburbs in the state. According to the latest census, Yonkers has 195,976 residents making it the #11th largest city in the state of New York. The population increases at an average rate of 2.5% per year. Yonkers is also the largest city belonging to Westchester County. 
The main downtown in Yonkers has a plaza called Getty Square. Getty Square is the location of the municipal government of Yonkers. Yonkers downtown is home to most of the city's businesses and organizations. The downtown is a retail hub for the entire Yonkers area and southern Westchester. The most famous sights in the city are Untermyer Park, Hudson River Museum, and the Saw Mill River. 
The Yonkers Raceway is the biggest employer in the city with a harness racing track. The racing track underwent a major renovation in 2006 and added video slot gambling with a new casino called Empire City. The main avenue in the city is called Central Park Avenue. The city is known as the city of "7 hills". 
Freedom Heavy Haul helps businesses in Yonkers transport their machinery and we specialize in heavy machinery for construction, engineering, and other industrial use. We can ship all of the following:
Plants.

Oil rigs, pipes, and related machinery.

Industrial and commercial equipment.

Mining machinery.

Turbines.

Agricultural machinery.

Cranes.

Hotel and restaurant appliances.

Factory components.

Building and construction machinery.  
Over Dimensional and International Shipping to/from Yonkers
Due to its proximity to NYC, Yonkers has very strict regulations on heavy cargo and this is why all routes are planned in advance. We can help you obtain the oversize permits you need from the NYSDOT and arrange transit during permitted hours through permitted bridges and highways. We know all the critical routes leading into Yonkers from the City and further north into Westchester County. We can ship to any point in New York State or other states in the contiguous US. 
Freedom Heavy Haul has a dedicated international team that ships heavy cargo to numerous international destinations. Our clients in Yonkers who need international shipping can ship to dozens of popular counties (listed below). We'll take over the whole process for you by picking up the equipment, calculating the route, obtaining permits, and hauling it to the nearest international port. We have access to all international shipping terminals in the state of New York. Here's a list of countries we ship to:
China

Japan

Germany

India

United Kingdom 

France 

Italy 

Brazil 

Canada 

Russia 

South Korea 

Spain 

Australia 

Mexico 

Indonesia 

Netherlands 

Saudi Arabia 

Turkey and 

Switzerland
As part of our International Shipping service, we also ship to other countries not mentioned on the list above. To browse the full list of countries we currently service, kindly visit the following link. All international shipments will include in-hand delivery and we'll make sure it arrives at your international destination on time. 
Oversize cargo departing from Yonkers, NY to all international locations is regulated by the State of New York Permissible Weight Table. 
Construction Equipment Shipping to/from Yonkers
Freedom Heavy Haul supports construction businesses and real estate businesses who build commercial and residential buildings in Yonkers by hauling their equipment between different job sites in the city and the larger New York Metropolitan Area. We can haul construction equipment such as lifts, rollers, dozers, cranes, rigs, drills, and more. Give us a call and we'll arrange a pickup date for your equipment. 
Our drivers are experienced and we bear full responsibility for the state of your cargo – we ensure it arrives without a fault! We'll even go as far as subcontracting agents and other service providers if time is of the essence and we need to expedite your shipment. 
RGN Trailers Servicing near Yonkers
The safety of the cargo on the road depends on the rig. If the rig is in good condition, it will be capable of withstanding heavier pressure for longer routes. This is why maintenance is essential for all trailers. Here's a list of proven RGN trailer service companies near Yonkers:Â 
RGN, Step Deck, Flat Deck trailers available near Yonkers
Yonkers is the largest city in Westchester County and one of the main transit hubs connecting NYC to Upstate New York and Connecticut. Millions of tons of cargo are hauled over Yorkers' roads each year. This is why the trucking industry is booming and local businesses can get their goods on time. If you want to make sure your shipment arrives untouched, you need to get a good trailer. Here's a list of trailers available in the Yonkers area: 
Yonkers ZIP codes
Yonkers ZIP codes: 10470, 10583, 10701, 10702, 10703, 10704, 10705, 10706, 10707, 10708, 10710.
Source: https://www.zip-codes.com/city/ny-yonkers.asp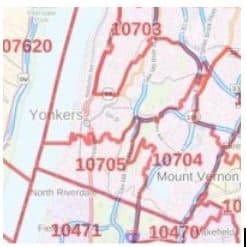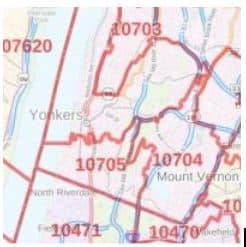 Source: https://www.maptrove.com/maps-for-business/zip-codes/new-york/yonkers-zip-code-map-new-york.html