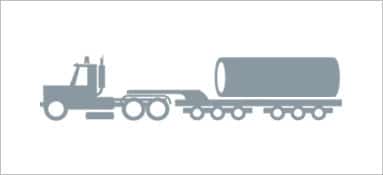 Heavy Haul Transport, Shipping, Movers, Transport and Hauling Services
Find affordable and efficient transport for your construction equipment, farm machinery and industrial products. We'll also ship your emergency vehicles and your military trucks.
Let Freedom Heavy Haul ship your largest loads anywhere in the U.S, Canada or Mexico. You'll get personalized service, fast and accurate quotes and logistics support from our team of transport professionals. Your heavy equipment is in safe hands with us.
Transporting heavy hauls is all about experience. It begins with the drivers. Not every long-haul operator has the know-how and training to handle heavy equipment. Loading heavy equipment on trailers, balancing the load, transporting the shipment – there's a lot to it. We work only with experienced heavy-haul operators who have:
Up-to-date licensing
Adequate insurance
At least 5 years experience
Construction Equipment Transport, Shipping, Movers, Transport and Hauling Services
Ask Freedom Heavy Haul ship your construction equipment safely and efficiently to its next destination. Each piece of heavy construction equipment comes with its own special rules for transportation. Trust your experienced transport agent to outline the most important aspects of hauling your piece of heavy equipment.
Among the types of heavy construction equipment that we ship are:
Pipe Layers
Street Sweepers
Trenchers
Smaller pieces of construction equipment, such as backhoes and mini-excavators, fit nicely on flatbed trailers. Larger pieces of construction equipment, like bulldozers and wheel loaders, travel on step-deck trailers. RGN trailers, along with lowboy trailers, handle the transport of oversized construction machinery.
Farm Equipment Transport, Shipping, Movers, Transport and Hauling Services
Turn to Freedom Heavy Haul to ship your farm equipment to any destination you desire. Farms, dealers, auction houses – ask us to transport your farm machinery between your farm and anywhere else. We'll even help you export your equipment if you want.
Pieces of farm equipment that we ship regularly include:
Balers
Combines
Cotton Pickers
Cultivators
Harvesters
Loaders
Mowers
Plows
Rakes
Sprayers
Spreaders
Tedders
Tractors
Rakes
Windrowers
Wagons
Flatbed trailers are nice for shipping smaller pieces of farm equipment, such as balers and mowers. Choose a step-deck trailer if you're shipping larger pieces of farm equipment, like sprayers or cultivators. RGN trailers transport the biggest pieces of farm equipment, such as combines and cotton pickers.
Industrial Equipment Transport, Shipping, Movers, Transport and Hauling Services
Freedom Heavy Haul has years of experience shipping industrial equipment around the country. Experience counts when you're shipping irregularly shaped items. Just balancing the load properly is an art.
Examples of industrial equipment that we regularly transport include:
Boilers
Compressors
Concrete pilings
Engines
Kilns
Presses
Pumps
Lathes
Machine Tools
Turbines
Ship smaller pieces of industrial equipment, like presses and machine tools, on less-expensive flatbed trailers. Step-deck work well for items that require a few extra feet of clearance to avoid an oversize designation, such as turbines and pilings. RGN trailers haul the largest of the large, like oversized boilers and compressors.
Emergency Vehicles Transport, Shipping, Movers, Transport and Hauling Services
Talk to Freedom Heavy Haul about shipping your emergency vehicle to any location you desire. We'll match your emergency vehicle with the perfect trailer for a smooth transport.
Emergency vehicles we specialize in shipping include:
Ambulances
Crime Scene Vans
Fire Engines
Ladder Trucks
Police Cars
SWAT Vehicles
Tow Trucks
Most emergency vehicles travel on either step-deck trailers or RGN trailers. Step-deck trailers are perfect for transport emergency vehicles like ambulances and police cars. RGN trailers handle the shipping of the largest emergency vehicles, such as ladder trucks and SWAT vehicles.
Military Vehicles Transport, Shipping, Movers, Transport and Hauling Services
Contact Freedom Heavy Haul to transport any military vehicle to any location in the country. From base-to-base or point-to-point, we'll ship any type of military truck or vehicle in a safe and efficient manner. Military trucks we transport include:
Armored vehicles
Cargo Trucks
Combat support vehicles
Fighting Vehicles
Personnel Carriers
Refuelers
Tactical vehicles
Tanks
Utility vehicles
Most military trucks require step-deck trailers or RGN trailers for safe transport. It's just too difficult to load military trucks on flatbed trailers. For local or regional deliveries, rollback trucks with beds that tilt and winches that tow are an option.
Step deck trailers ride lower to the ground than flatbed trailers. The reduced clearance makes loading and unloading military vehicles on step-deck trailers much easier than on flatbed trailers. RGNs are used to ship the largest pieces of military equipment, such as tanks and personnel carriers.