Texas Heavy Machinery Transport & Hauling Services
Texas conducts an overwhelming part of its intermodal freight commerce through trucks. So, if you want to be part of that revolution, we, here at Freedom Heavy Haul, are proud to be your partner to success. According to Texas' Freight Mobility Plan, the Lone Star State is set to increase truck tonnage by 78% by 2040. 
With more interstate mileage (3,200 miles) than any State in the nation, Texas is the country's leader in truck haulage. Use our trucks and freight movement expertise to get your heavy machinery from/to Texas and anywhere else in the USA. If it's portable, be it engineering equipment, construction gear, oil rigs and drills, or any other heavy equipment, we'll move it safely and securely. Because that's what we do!  
Major Ports in Texas
Texas has a network of ports that facilitate shipment of products, produce, machinery and equipment within the State, across the country and internationally. In fact, 7 of the top Texas ports have a place of honor among the top-50 ports in the U.S.A. These include including Houston (ranked #2), Beaumont (#5), Corpus Christi (#6) and Port Arthur (#17), and Texas City (#18).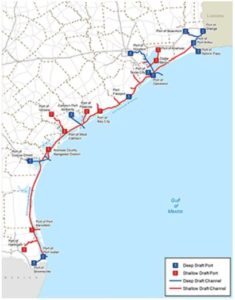 SOURCE: Map courtesy of the Texas Department of Transportation.
According to the U.S. Army Corps of Engineers, here's a list of top ports in Texas ranked nationally by tonnage:
Bay City

Beaumont (#5)

Brownsville (#61)

Calhoun Port Authority

Cedar Bayou

Corpus Christi (#6)

Freeport (#31)

Galveston (#59)

Harlingen

Houston (#2)

Orange

Palacios

Port Arthur (#17)

Port Isabel

Port Mansfield

Sabine Neches

Texas City (#18)

Victoria (#80)

West Calhoun
Major Cities and Roadways in Texas
Spread over 268,581 sq mi (696,241 km2), Texas boasts a GDP of over 1.9 trillion dollars, ranking 2nd among the nations' states (California has the distinction of being #1 in GDP), accounting for over 8.8% (California 14.6%) of the national GDP. The State is also a hub for business, commerce and industry, hosting the 3rd largest number of Fortune 500 companies after New York and California. However, when it comes to exports, Texas ranks #1 in the USA.
The State supports cross-State, cross-country and international trade, business and commerce though an elaborate network of U.S. Highways, Interstate Highways, State Highways, and a diverse system of beltways, roads, bridges and local access roadways.  
The State has 45 U.S. highways and 16 interstate highways. Of the over 45,000 miles of national Interstate Highway system, 3,233 miles are in Texas.
The Lone Star State boasts of a diverse economy, covering agriculture, defense, oil & gas, mining and exploration, aerospace and the movie business. If Texas is compared to most countries in the world, its economy alone would rank as the 10th largest globally. 
The 10-largest cities in the Lone Star State, by population, include:
Houston 

San Antonio 

Dallas 

Austin 

Fort Worth 

El Paso 

Arlington 

Corpus Christi 

Plano 

Laredo
Length, Weight, Height and Width Restrictions in Texas
The Texas Department of Public Safety's Motor Carrier's Guide to Highway Safety covers permissible length, weight, height and width limits for trucks and rigs plying on Texas roadways and highways. As a rule, for shipments 100'=0" long and 10'-0" wide, the State only allows trucking activity to occur anytime between half-hour prior to sunrise, and half-hour after sunset. 
Shipments exceeding 110'-0" in length require a rear pilot vehicle accompanying them, with vehicles longer than 125'-0" requiring both front and rear pilot vehicles. Loads that are not oversized but overweight may travel by night, but require high-levels of illumination. 
Standards for allowable Length, Weight, Height and Width include:
Maximum Trailer Length: 65'-0"

Maximum Trailer Width: 8'-6"

Maximum Trailer Height: 14'-0"

Weight: 80,000 pounds
Trucks that fall beyond these specifications require permits.
Oversize Transport Permits in Texas
Typically, oversize permits are valid for between 3 to 5 days, and must be secured prior to entry into the State. If your load exceeds those covered by the Texas Department of Motor Vehicles (TxDMV) weight and size limits, you'll require an oversize and/or overweight permit to travel on bridges and roadways in the State. 
You may use TxPROS, the States' online permitting system to apply for and manage your permits.
Length: 59′ semi-trailer
Overhang: 2′ front, 4′ rear
Width: 8'6″
Height: 14′
Weight: 80,000 Gross: Single – 20,000, Tandem – 34,000, Tridem – 42,000
ROUTINE PERMIT LIMITS
Length: 125′
Overhang: 30′
Width: 20′, 16′ when travelling on Interstate System
Height: 18'11"
Weight: Single – 25,000, Tandem – 46,000, Tridem – 60,000, Quad – 70,000
SUPER LOAD CONSIDERATIONS
Loads exceeding the above dimensions are classified as Super Loads or Super Heavy Loads that require state-proposed routes to be followed.
Equipment Auction Houses in Texas
Freedom Heavy Haul supports its clients to ship all types of heavy equipment and machinery from and to any auction house in Texas. Some prominent auction houses in the State include:
Equipment Rental Centers in Teas
Call us if you need support transporting your heavy equipment from or to a equipment rental center across Texas. Some key equipment rental centers in Texas include:
RGN Trailers Servicing in Texas
When your RGN trailers need servicing, you should only deal with qualified servicing companies that have a reputation for exceptional reliability and high-quality service. Here are a few RGN trailer servicing companies in Texas: