Ohio Heavy Machinery Transport & Hauling Services
One of the top ten states to do business today, Ohio has seen a steady upward annual growth rate over the last five years. It is among the states to benefit from the bitter US-China trade wars. In 2019, its GDP was at $706.7 billion according to the Bureau of Economic Analysis. 
With millions-worth of cargo going in and out of the state, the freight industry in Ohio has always been busy. In fact, by 2040, truck shipments within the state are projected to reach $1.3 trillion. 
If you need to move products, machinery and equipment within the state, be sure to work only with a reliable freight and trucking company. Whether you need to move heavy machinery for engineering, oil rigs and drills, construction, or any other industry within the state of Ohio, Freedom Heavy Hauling can be of service. We have a fleet of trucks and trailers ready to be deployed!
Major Ports in Ohio
Ohio has a total of 440 miles of inland waterways, dotted by a network of ports and a number of waterway facilities. These ports are responsible for the orderly transit and shipment of goods, equipment and machinery within the State and out of it. Every year, they handle around 90.6 million tons of freight. The state has ten ports, with Cincinnati, Port of Cleveland, and Port of Toledo as the top three busiest ports. 
Here are other major ports and harbors in Ohio.
Port of Cincinnati

Port of Cleveland

Fairport Harbor

Port of Huron

Port of Lorain

Port of Toledo

Port of Ashtabula

Port of Conneaut

Port of South Point

Port of Sandusky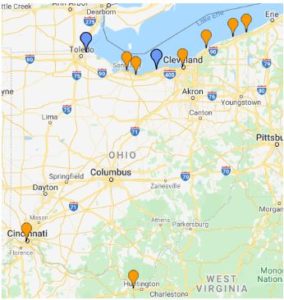 SOURCE: Map Courtesy of World Port Source
Major Cities and Roadways in Ohio
A crucial driver in Ohio's economy is its transportation network that consists of roads, highways, bridges, railways, waterways, and freight railroad and ports. These facilities ensure movement of people, businesses and goods within the state.
With a total road mileage of 123,297, freight freely moves throughout the State, reaching even far-flung supply chains and destinations. Trucking accounts for about 80 percent of all freight shipments within the state. 
The NHS and Interstate Highways are crucial to Ohio commerce, particularly for shipment going to and coming from other states. The state has a total of 21 Interstate Highways and 25 US Numbered Highways. Although Ohio shares boundaries with busy states like Indiana, Kentucky, and Pennsylvania, roughly 59 percent of shipments that move out of the state are delivered to non-neighbouring states. 
The second largest economy in the Midwest, following Illinois, Ohio's key industries are food, agriculture, retail, manufacturing, and tourism. In 2019, the state ranked seventh highest GDP. Nominally, Ohio is among the top 25 global economies.
The top 10 cities, in terms of population, are:
Columbus

Cleveland

Cincinnati

Toledo

Akron

Dayton

Parma

Canton

Youngstown

Lorain
Length, Weight, Height and Width Restrictions in Ohio
Federal and state laws govern the operations of commercial trucks. The use of roads, highways and bridges, including truck size and load, are stipulated under Chapter 55 of the Ohio Revised Code. These regulations are enforced by the Ohio State Highway Patrol.
Under these regulations, commercial trucks with width exceeding 8 ft 6 in or 2.6 meters are not allowed to ply the public roads without oversize permit. Additionally, the maximum allowable height is 13 ft 6 in or 4 meters.
Commercial truck length restriction is 50 ft. A semitrailer, when hooked to a tractor-semitrailer combination, can ply the highways as long as it does not exceed 53 feet in length. 
The weight limitations depend on the type and number of axles of a commercial truck. Below are the weight restrictions:
Single axle – 29,000 pounds

Short tandem – 36,000 pounds

Short tri axle – 47,000 pounds

Long tandem – 50,000 pounds

Short quad axle – 60,000 pounds

Long tri axle – 60,000 pounds

Long quad axle – 80,000 pounds
Additionally, there are rules on how the weight is distributed between the trucks. All commercial trucks, and trailers with interstate destinations, must also follow the federal bridge law and formula. The bridge formula is applicable to all freight carriers with weight exceeding 73,721 pounds with any of the following axle dimension and wheel base measurements:
6 axles, 33 inches wheel base

5 axles, 41 inches wheel base

4 axles, 47 inches wheel base
All trucks and trailers that exceed the restrictions require permits to move on or across Ohio highways.
Oversize Transport Permits in Ohio
All trucks that exceed the maximum allowable size and load are required to obtain oversize permit. This permit is valid for 5 days and is required prior to entry into the state. 
Oversized vehicles less than 12 ft wide may travel one-half hour before sunrise to one-half hour after sunset. However, shipments over 12 ft wide are restricted travel beyond 3:00 PM on Friday and through weekend. Overweight trailers not exceeding 53 ft in length do not have operating time restrictions, provided they keep up with traffic. There are counties that restrict travel vehicles over 12 feet with. You may refer to Ohio Provisions Form OS-1A for a complete list of counties and schedules.
Below are the legal dimensions for trucks requiring permit.
Legal Dimensions
Length: 53 ft semi-trailer and load

Overhang: 53 ft semi-trailer and load including rear overhang (does not include overhang off front of trailer)

Width: 8 ft 6 in

Height: 13 ft 6 in

Weight: 80,000 Gross

Single – 20,000

Tandem – 34,000

Tridem – 48,000
Routine Permit Limits
Length: No set maximum

Width: 14 ft

Height: 14 ft 6 in

Weight

Single – 29,000 (distance of 16′ or more from an adjacent axle)

Tandem – 46,000 (4'0″ to 4'5″ spacing) to 47,000 (4'6″ to 5'5″ spacing)

Tridem – 60,000 (axle spacing at least 4'1″)

Quad – 80,000 with at least 4'1" spacings
Super Load Considerations
Shipments that exceed the legal dimensions are considered super load. These loads require special permit, and follow set guidelines and special routes within Ohio.
Equipment Auction Houses in Ohio
Several auctioneers operate within the state of Ohio. If you need to transport heavy machinery and/or equipment from or to these locations, Freedom Heavy Haul has a fleet of vehicles ready to move your shipment. Below are some notable equipment auction houses in Ohio:
Equipment Rental Centers in Ohio
Likewise, there are also equipment rental centers that offer affordable rates. Feel free to contact us if you need help in moving heavy machineries from their locations to in-state or out-of-state destinations. Here are some well-known equipment rental centers in Ohio:
RGN Trailer Servicing in Ohio
Make sure your RGN trailer is in tiptop shape before travel. When it comes to truck and trailer maintenance and repair, you want to entrust it only to qualified and reputable service companies. Some RGN trailer servicing companies in Ohio include: